For no one it's a secret that women's football needs more support. If small businesses, such as restaurants, saw the value in women's soccer as much as they see it in their counterparts, the reward would go for both parties. According to the article, "Women's sports gets down to business: On track for rising monetization", published by Deloitte Insights, "In sports where men's and women's games have relatively equal marketing support, their business impact has been roughly equivalent."
-Los Restaurantes se Pueden Beneficiar al Transmitir la Copa America Femenina
Para nadie es un secreto que el fútbol femenino necesita más apoyo. En este caso si los negocios pequeños como restaurantes vieran el valor en el fútbol femenino tanto como lo ven en el fútbol masculino la recompensa sería para ambas partes. De acuerdo con el artículo, Women's sports gets down to business: On track for rising monetization, publicado por Deloitte Insights, "En los deportes en los que los juegos de hombres y mujeres tienen un apoyo de marketing relativamente igual, su impacto comercial ha sido aproximadamente equivalente."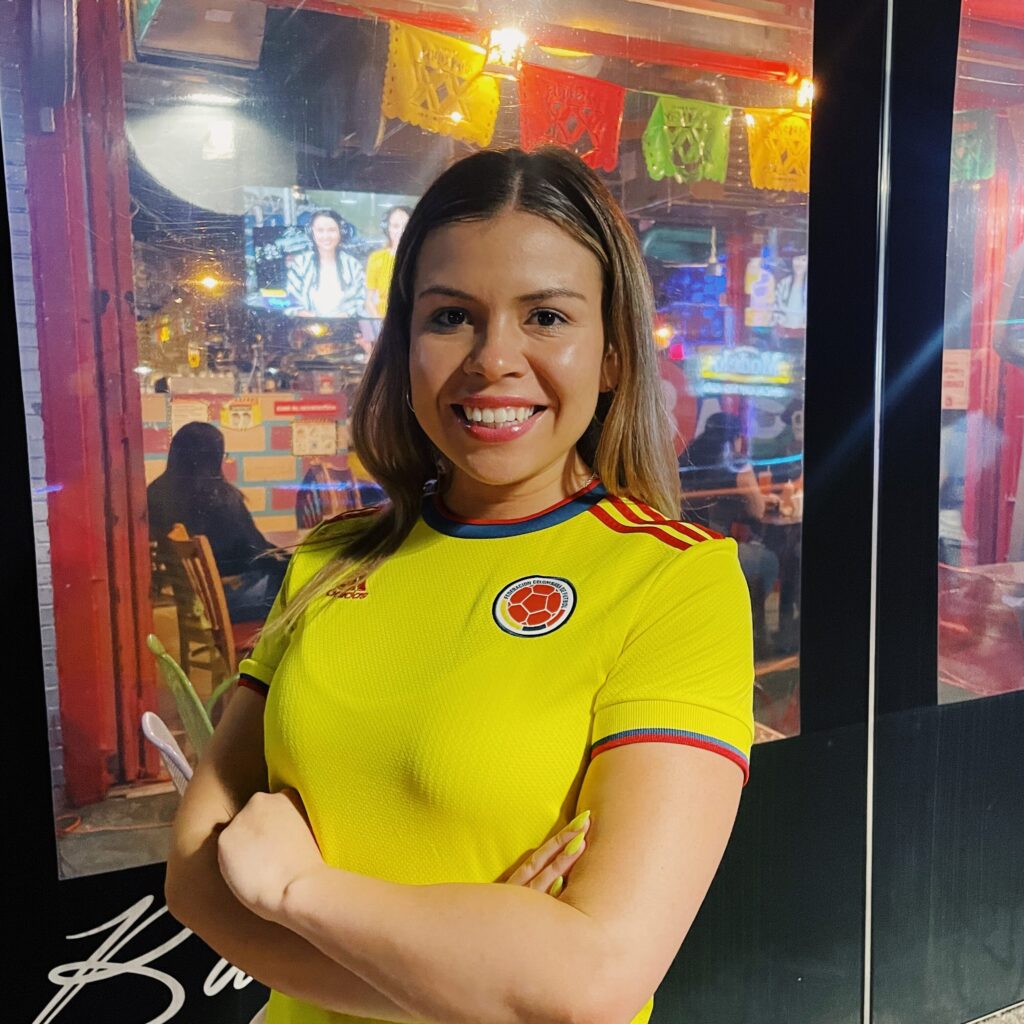 On July 8, 2022, I went to a Colombian restaurant called Basurero located in Queens, New York. I always go to this location when the Colombian men's national team plays and I want to be surrounded by Colombia supporters. Before going, I called and made sure they were going to air the match between Colombia vs. Paraguay - Women's Copa America 2022. Indeed when I arrived, one of the workers showed me the TV where the match was going to be broadcast. Usually when the Colombian men's national team plays, all the TV's in this establishment are on and with the sound of the game.
Ayer, Julio 8, 2022 fui al restaurante Colombiano que siempre voy cuando juega la selección Colombia masculina y quiero estar rodeada de Colombianos, Basurero es un restaurante ubicado en Queens, Nueva York. Antes de ir, llame y me asegure que fueran a poner el partido entre Colombia vs Paraguay - Copa America Femenina 2022, efectivamente cuando llegue me señalaron el televisor donde el partido iba a ser transmitido. Usualmente cuando juega la selección Colombia masculina todos los televisores de este establecimiento están prendidos y con el sonido del partido puesto.
The Copa America Tournament serves as a qualification for the 2023 FIFA Women's World Cup. This means that if COLOMBIA qualifies, restaurants can start becoming references as places that broadcast the tournament. Deloitte Insights ends their article stating, "Change takes time, and it may take a decade, or even a generation, for women's sport to reach its full potential. But his promise to deliver value to sponsors, investors, fans, and athletes and teams is becoming increasingly clear. We look forward to a world in which women's sport has the same status as men's, in all respects."
Follow me on Instagram and Facebook
La Copa America sirve como clasificación al mundial de la FIFA femenina 2023. Esto quiere decir que si COLOMBIA clasifica, desde ahora los restaurantes pueden ser referentes de transmisión. Deloitte Insights termina su artículo diciendo, "El cambio lleva tiempo, y puede llevar una década, o incluso una generación, para que el deporte femenino alcance su máximo potencial. Pero su promesa de brindar valor a los patrocinadores, inversores, fanáticos y atletas y equipos se está volviendo cada vez más clara. Esperamos un mundo en el que el deporte femenino tenga el mismo estatus que el masculino, en todos los aspectos."